We are delighted this place MATTERS to our nation!
On January 22, 2015, the community joined Rick West, President and CEO of the Autry National Center of the West, Arturo Chavez, Chief of Staff, on behalf of Councilmember Gil Cedillo from CD1, and Barbara Pahl, Western Regional Vice President for the National Trust for Historic Preservation and the staff from these organizations to welcome the new designation of the Southwest Museum as a National Treasure. With the expertise of the National Trust for Historic Preservation, we now have a new opportunity to find a path forward for the future of the museum for the next 100 years.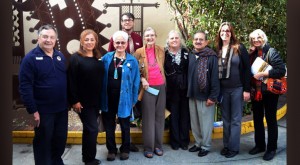 The community has not wavered from the longstanding aspirations to have a vibrant, sustainable Southwest Museum and Casa de Adobe, honoring the legacy of Charles Lummis and displaying the magnificent collection. 
You can learn more about the National Treasures Program on the National Treasure web site:
http://www.savingplaces.org/treasures/southwest-museum-site#.VMUpZywixSg
Please also look at this special website designed just for the Southwest Museum where you can sign up to follow what's happening and submit comments and photos. Listen to the audio from the event.
The media took notice of this event.
LA Times article link:
http://www.latimes.com/entertainment/arts/culture/la-et-cm-autry-southwest-museum-native-american-art-culture-national-trust-historic-preservation-20150121-story.html#page=1
EASTERN GROUP: http://egpnews.com/2015/01/southwest-museum-to-be-named-national-treasure/
LA CURBED: http://la.curbed.com/archives/2015/01/a_look_back_at_the_heyday_of_the_troubled_southwest_museum.php
PASADENA STAR NEWS:   
http://www.pasadenastarnews.com/general-news/20150122/southwest-museum-named-national-treasure-by-national-trust-for-historic-preservation